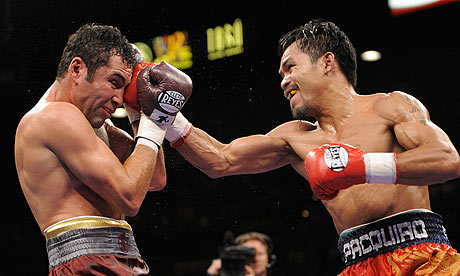 "For God and Country"

That's the motto that rings all through the Phillipines and now the world.

Manny Pacquiao defeats Oscar Delahoya in this years Dream Match in Las Vegas this past weekend.
The "Golden Boy" got his ass handed to him for 8 straight rounds!!! The referee had to stop the fight and Dela-hoya quit on his stool.

Don't get me wrong, I like Oscar very much. I think he's the face of boxing. What I didn't care for was everyone from experts to analysts counting Manny out even before the fight. No one gave Manny a chance. Well, now the whole world knows the real truth. He put away any doubts in peoples mind that night that he is the Pound for pound best fighter in the world. He deserves the respect of everyone in my opinion.

BBC…
"The Filipino gave his bigger, more famous opponent such a beating that De la Hoya declined to come out of his corner after the eighth round."

So until next spring I'll anxiously wait till the next fight with the current light-Welterweight belt holder Ricky Hatton.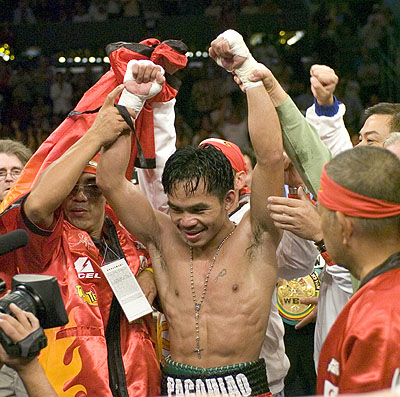 Speed kills!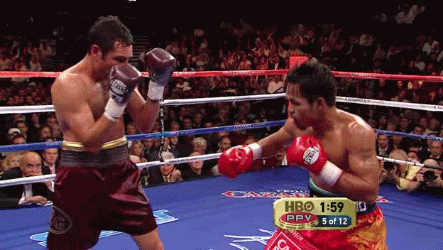 Honestly, I think this combination was the best part of the night. Beautifully executed. Manny is sooo damn fast that I think he did this combo in less than 2 seconds!


I think this may have been in Round 8...had it not been for the ropes holding Delahoya up, he would've been knocked down...
Quiting on the stool after round 8....
My hats off to Delahoya. He's done a lot for the sport but it's time for him to retire and to spend his Millions.